Want to help YAC make a difference?
Join us later this summer for a bonfire to learn more about what YAC does and if you'd like to help make a difference in your community.
Date and Location: TBA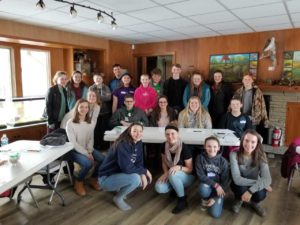 WHAT DOES THE YOUTH ADVISORY COUNCIL (YAC) DO?
Volunteering: Many community organizations ask the YAC for help with local events ranging from litter cleanups to Easter egg hunts to 5k races. YACers are always ready to lend a hand in their community. (See below for the Service Request Application.)
Philanthropy: The YAC sponsors charitable events throughout the year, including projects like giving out Thanksgiving meals for Family Volunteer Day, purchasing Christmas gifts for low-income families, and handing out free movie tickets for Random Acts of Kindness day.
Grantmaking: Each year, the YAC awards grants from the W.K. Kellogg Fund to community non-profits and school organizations for youth-related projects in Shiawassee County. YAC members review the applications and make funding recommendations that are then approved by the SCF Board of Directors.
HOW CAN I GET INVOLVED?
Come to a meeting! The YAC meets once a month during the school year, usually at 3:00 pm on the 3rd Sunday of the month. Contact us for location details. Shiawassee County residents (including Chesaning and Ovid-Elsie) aged 12-21 are welcome to apply.
Complete the YAC Member Application (link below). Then mail it to the YAC office or bring it with you to a meeting.
Contact Information:
Lora Phelps
YAC Advisor & Creative Assistant
217 N. Washington St., Suite 104
Owosso, MI 48867
(989) 720-7441 (office)
YAC Member Application
YAC Service Request Application
Are you looking for youth volunteers for a community event? YAC members are eager to give back their time and efforts to support the Shiawassee County community.
Looking for the YAC grant application? Find it here: Grants Page