Want to help YAC make a difference?
Please take our Youth Needs Assessment to help the YAC determine where and how W.K. Kellogg Endowed Fund grants should be granted each year and what type of service projects the YAC should devote their time to.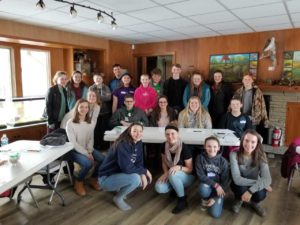 WHAT DOES THE YOUTH ADVISORY COUNCIL (YAC) DO?
Volunteering: Many community organizations ask the YAC for help with local events ranging from litter cleanups to Easter egg hunts to 5k races. YACers are always ready to lend a hand in their community. (See below for the Service Request Application.)
Philanthropy: The YAC sponsors charitable events throughout the year, including projects like giving out Thanksgiving meals for Family Volunteer Day, purchasing Christmas gifts for low-income families, and handing out free movie tickets for Random Acts of Kindness day.
Grantmaking: Each year, the YAC awards grants from the W.K. Kellogg Fund to community non-profits and school organizations for youth-related projects in Shiawassee County. YAC members review the applications and make funding recommendations that are then approved by the SCF Board of Directors.
HOW CAN I GET INVOLVED?
Come to a meeting! The YAC meets once a month during the school year, usually at 3:00 pm on the 3rd Sunday of the month. Contact us for location details. Shiawassee County residents (including Chesaning and Ovid-Elsie) aged 12-21 are welcome to apply.
Complete the YAC Member Application (link below). Then mail it to the YAC office or bring it with you to a meeting.
Contact Information:
Lora Phelps
YAC Advisor & Creative Assistant
217 N. Washington St., Suite 104
Owosso, MI 48867
(989) 720-7441 (office)
YAC Member Application
YAC Service Request Application
Are you looking for youth volunteers for a community event? YAC members are eager to give back their time and efforts to support the Shiawassee County community.
Looking for the YAC grant application? Find it here: Grants Page