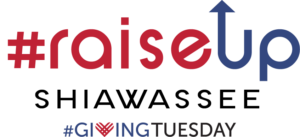 Thank you for your kind support of the Youth Advisory Council's Christmas Wishes campaign, their #GivingTuesday project for 2018. In coordination with Capital Area Community Services, YAC members are raising money to purchase Christmas presents for children from local low-income families. Your gift will help those who don't always have enough during the holidays. 
Donations to this project are being matched up to a total of $500 by a generous grant from the Cook Family Foundation.
In accordance with regulations of the Internal Revenue Service, this is an official receipt of your donation. In order to ensure that your donation is fully tax deductible, please note that the Shiawassee Community Foundation has exclusive legal control over your donation. In addition, no goods or services were provided by the Foundation in exchange for your contribution. Please keep this receipt to substantiate your donation.